Commissions
Commissions are the bread and butter of my business, and I thoroughly enjoy creating one-of-a-kind art quilts for both homes and businesses. These works frequently stretch my creative boundaries, taking me in new directions-a good thing.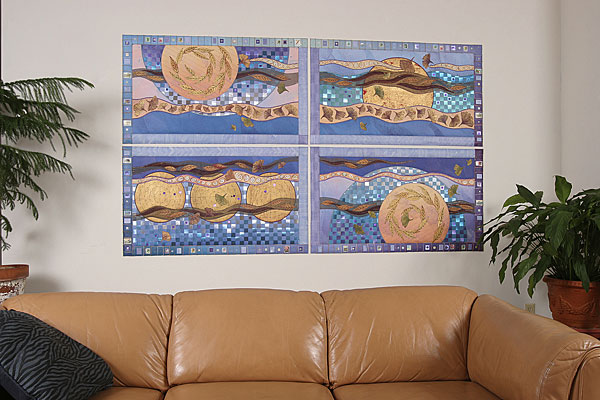 Serenity 5' x 8' Hospital Lobby

Many of my art quilts grace hospital walls such as Kaiser Permanente (above & detail below) in California. I love the role these healing quilts play in health care. Many other painted quilts hang in lobbies and conference rooms of businesses across the country.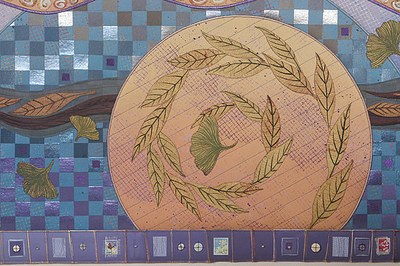 "When samples and photos of Bernie's works were presented to Kaiser Permanente's 18-person art committee consisting of administrators, doctors, public relations and facilities people, and other staff members, the reaction was unanimous. Everyone on the committee loved the idea of commissioning Bernie to create art for six lobby spaces."

"We have commissioned dozens of artists for this project, and I must say that working with Bernie Rowell has been about as effortless as possible. Sketches arrived on time, changes, when requested, were handled with grace, the works were packed with care, and they were delivered when promised." Dee Ann Preis and Associates, Woodland Hills, CA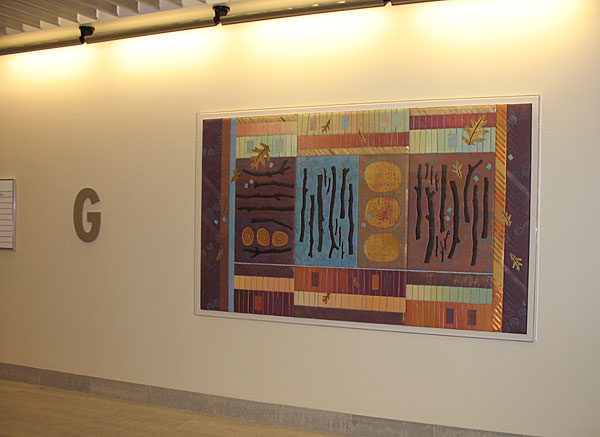 Luminescence 5' x 8' Hospital Lobby
Most of my commercial commissions come through art consultants, and I understand the tools required to sell my art quilts. I routinely provide scale drawings, color boards, technique samples, and price quotes.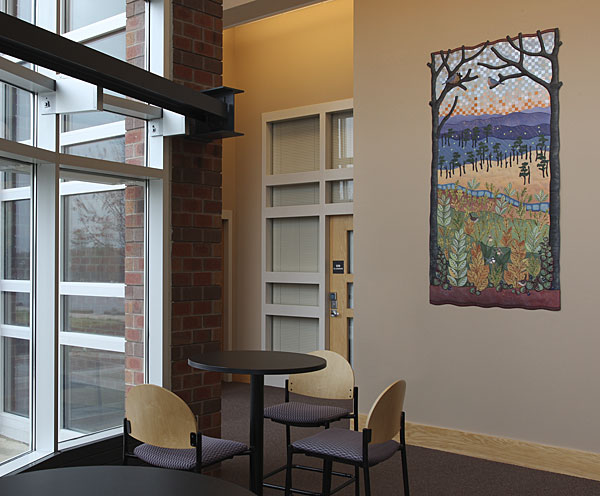 Reuter Center, UNC Asheville 7' x 3.5' atrium
My residential clients usually have a space in mind, and I enjoy going to their home to get a feel for the environment and the people.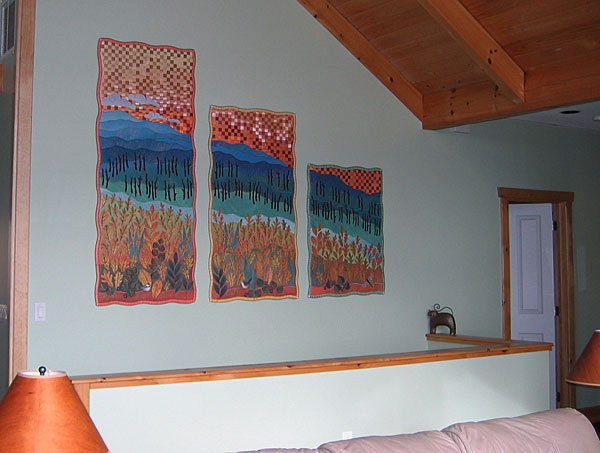 Ridge Haven Sunset private residence
I've made many collector friends in western North Carolina and other places as a result. I provide sketches, color selections, and a price in my contract, plus a time table for completion. Contact me for details.


Selected Commissions and Installation


Morgan, Stanley, Dean Whitter; McClean, Virginia

Hewlett Packard; Fort Collins, Colorado

East Tennessee Children's Hospital; Knoxville, Tennessee
Mitsubishi Semiconductor America; Durham, North Carolina
University of Arkansas Medical Center
UNC Women and Children's Hospital; Chapel Hill, North Carolina
Fisher College of Business, Ohio State University, Columbus, Ohio
Prentice Women's Hospital, Northwestern Memorial, Chicago, Illinois
Kaiser Permanente Medical Office, Ontario, CA
Kaiser Permanente Panorama City Hospital, Los Angeles, CA
Reuter Center, University of North Carolina, Asheville, North Carolina
Mission Hospital, Main Visitors Entrance, Asheville, North Carolina