About Bernie Rowell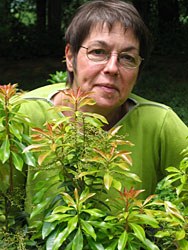 As a child I learned this one true thing: making art made me happy. That is still true today. I have to be an artist; it's how I heal myself, how I must spend my time. I have made my living as an artist for more than 25 years, so I must be doing something right!

The solitary aspect of studio work is my daily meditation, and the problem solving that art making requires keeps me interested. People tell me they thoroughly enjoy living with my art quilts. I think that is because I put a lot of positive energy and passion into creating them.

I've been a member of the Southern Highland Craft Guild for more than 30 years, and my art quilts hang in dozens of hospitals, homes, and businesses. Galleries and special exhibitions show my work, and national magazines have written stories about my painted quilts. I not only create art quilts, I occasionally teach others about quilting and art.

When I'm not working in my studio, I work in the garden, cherish visits from my adult children, and frequent the Asheville farmers' market that make cooking with my husband Robert an everyday joy.


My Process

My "visual vocabulary" combines a stitcher's skill with paint on canvas. Layered collage and embroidered embellishments build surface texture. Light-reflective metallic fabrics and thread add another dimension. My goal is to create beautiful works of textile art that have the longevity and low-maintenance qualities of an acrylic painting.

The Asheville arts community and the traditional western North Carolina craft world are my roots. I know a craft person's skills are built through daily work, slowly improving techniques and products over time. I think this close attention to detail and finishing makes my work special.

The repetition required to master these art quilt works eventually resolves all the problems I puzzle over. Then the work begins to get boring, and that's when Bernie the artist creates something new; I know it's time for a new idea, time to evolve again.


Selected Exhibitions


The Envelope Series; Blue Spiral 1, Asheville, North Carolina 2008
Focus Gallery at the Folk Art Center, Asheville, North Carolina 2008
Back to the Garden; Blue Spiral 1, Asheville, North Carolina 2006
Uncommon Threads; Fayetteville Museum of Art, Fayetteville, North Carolina 2005
For the Love of Flowers; Kentucky Museum of Art and Craft, Louisville, Kentucky 2005
Showcase; Blue Spiral 1, Asheville, North Carolina 2004
US Embassy Guatemala; Crafts of the Carolinas, 2003-2004
Quilts of the Carolinas; Mint Museum of Craft + Design; Charlotte, North Carolina 2002
Thirteen Moons Gallery; Santa Fe, New Mexico, 2000
Crossover Quilts; Pennsylvania School of Art and Design, 2000
Visions: Quilt San Diego, 1998
Quilt National, Athens, Ohio, 1997